Let's talk about a moving, mechanical, integral part of the majority of all cabinetry you will have in a design. Something that affects functionality on a daily basis. 
The Hinge.
This might seem like a dry subject, an aspect that is mostly taken for granted. However when hinging is approached thoughtfully and creatively, it can make or break a space. Here at Dura Supreme we offer about a dozen different ways to open a door (really!). From Bifold to Stay-Lift to Pocket to Inset we offer just the perfect solution to fit the homeowner's lifestyle. What you choose can make a big difference in how you use the space. Even something as simple as having all the cabinets in a particular work zone open in the direction that favors where the user would stand in that space is instrumental in good design.
Let's look at some examples…Here is a top-hinged, Lift Door. You will notice that when open it requires quite a bit of clearance above. It will extend straight up above the top of the cabinet. Overhead clearances can not be overlooked when deciding on these cabinets.
We also offer a Wall Bi-fold door, which does not extend up quite as far as the Lift Door.
If you go with a Stay-Lift door, it will open 100 degrees, so again, you will need to consider the clearance space above it.
And if you recess the Stay-Lift doors into a design, you will also need to consider the hardware and make sure there are no conflicts.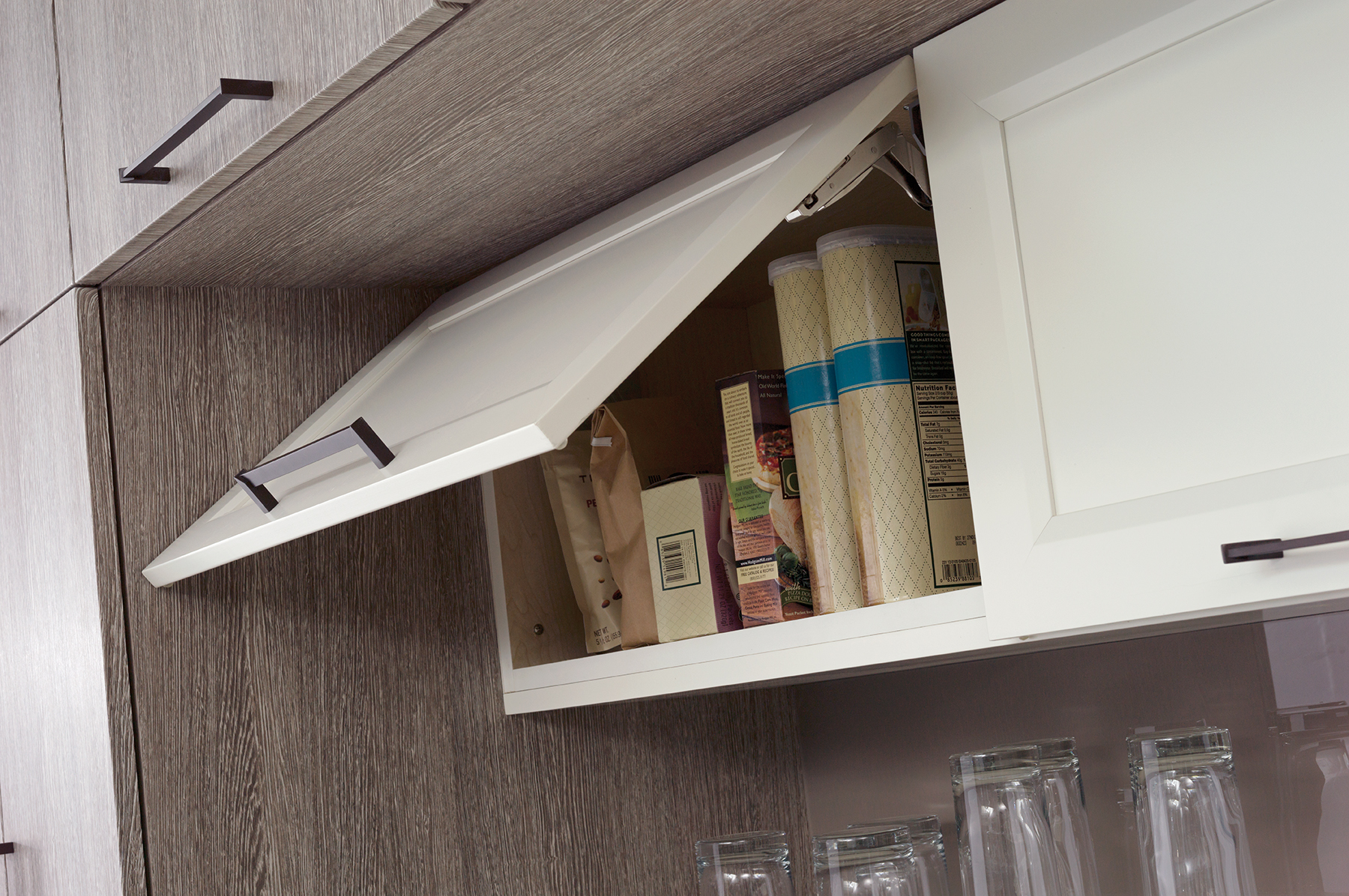 If space is an issue, a Pocket Door can be a great solution. It also comes with its own set of requirements. Depending on your door width, you may need to increase the depth of your cabinet to accommodate the doors being slid back into the sides of the cabinet. If you want shelving in the cabinet you will need to ask for Pocket Door Partitions to attach the shelves to. Here is an example where both of these issues played out-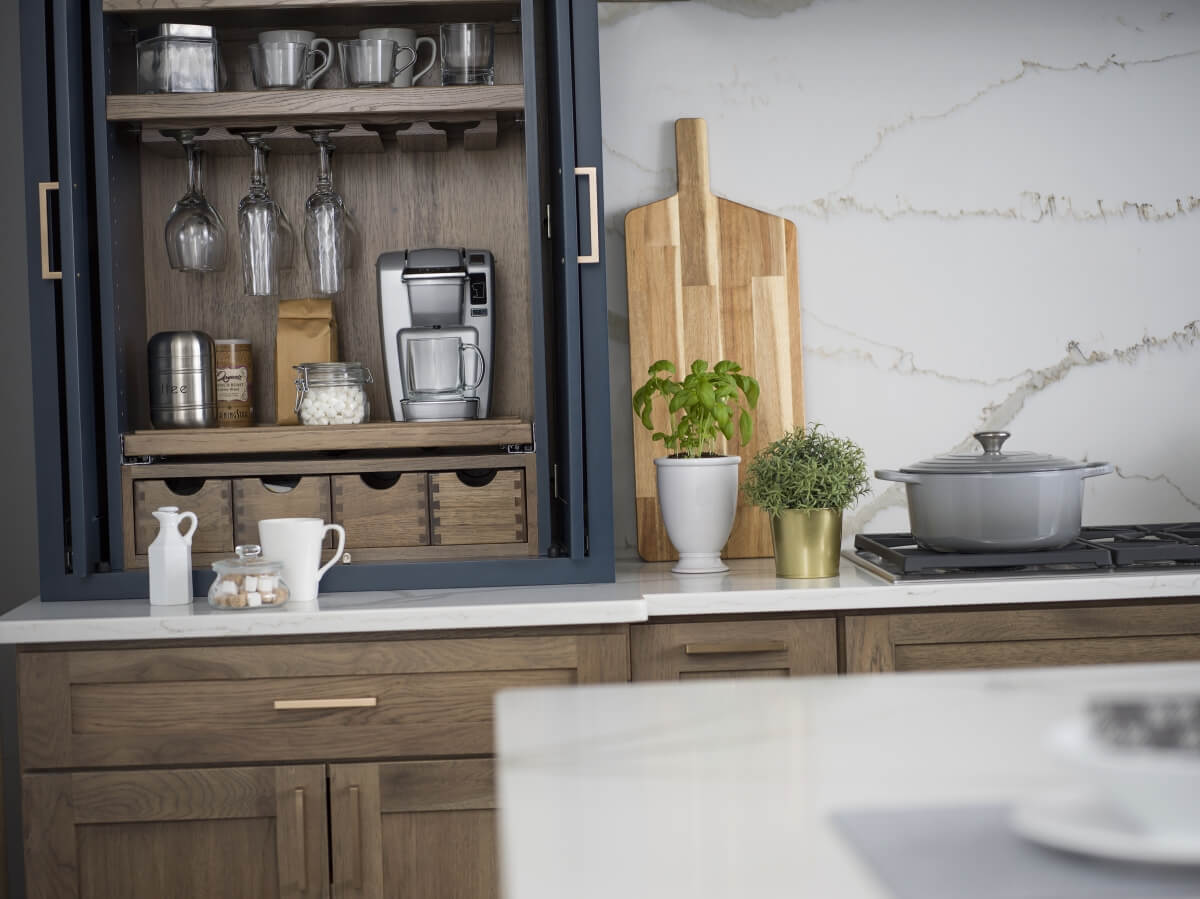 Pocket doors can also be incorporated in upper cabinets, as in this example below. Notice how they made the cabinet deeper to accommodate the size of the doors to be pocketed.
I have also seen applications of Pocket Doors turned 90 degrees and used to hide a microwave (this would also work for a TV).
If you notice in the two examples above, Inset cabinetry was chosen (all doors are inset, and flush with the face frame).  This is something to keep in mind when incorporating Pocket Doors. By their nature, all Pocket Doors have to be Inset. Speaking of Inset door styling, I would be remiss if I did not talk about Inset style hinging. You have a few choices here as well. You have the choice of concealed hinges that are hidden inside the cabinet or barrel hinges (in 5 different finishes) that are visible on the outside of the cabinet. It all depends on the look you are going for. Your choice of knobs and pulls would also be affected by this. Here are some examples, each with different finished barrel hinges (one black and one chrome)- 
If you prefer not to see the barrel hinge you can go with a concealed hinge, as seen in the example below. With this option, you have less to consider when deciding on the finish of your knob or pull.
Another thing to think about with Inset cabinetry, that could be affected by your hinging choice, is whether or not to have a beaded face frame. Below are two examples of a beaded face frame, one with a barrel hinge, one concealed- very different styles, definitely something to consider.
Finally, let's consider the bifold door-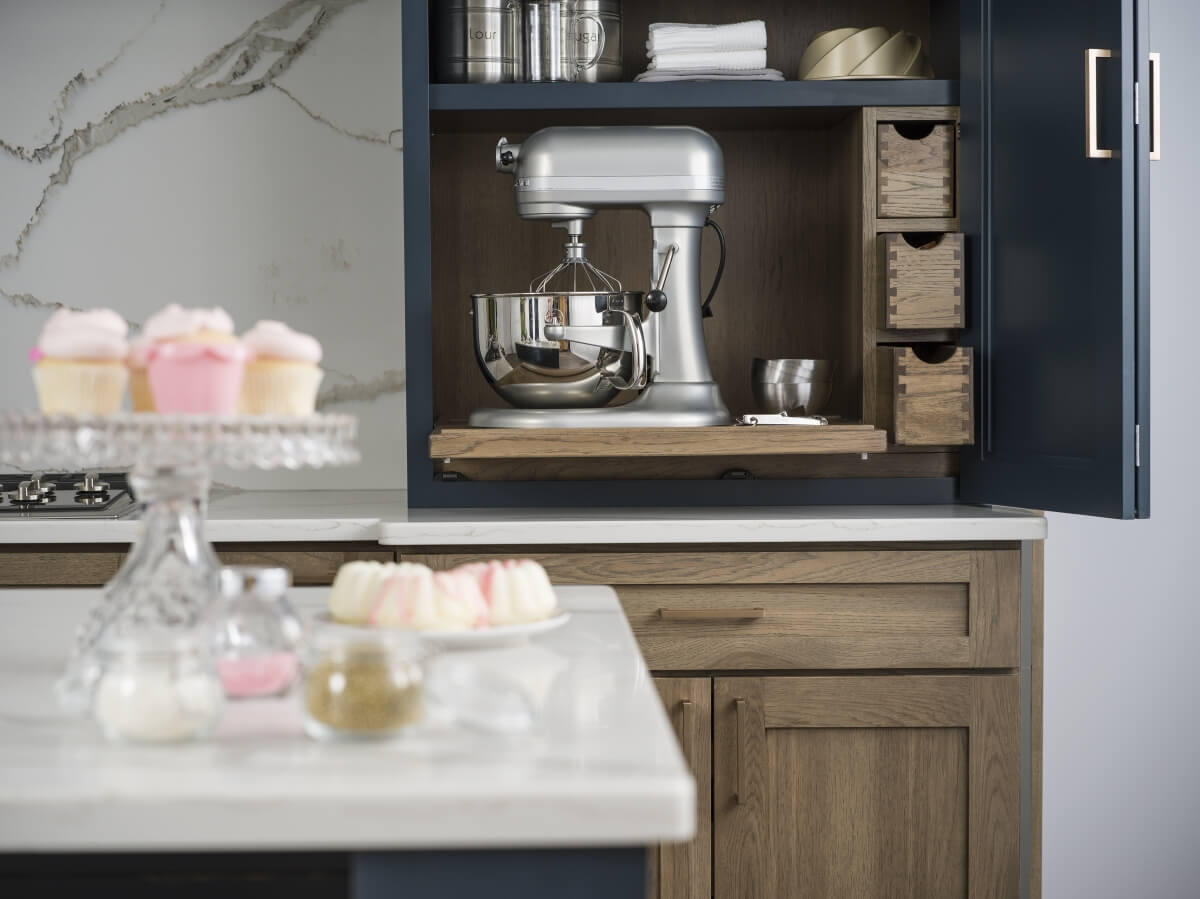 If you will notice this Gale Force blue bifold door opens to the right. You should also notice that it needs a good 6"-8" of reserved space to the right in order to open all the way. This would not be something you would want to put next to a wall. With a Bifold Door you will also have a small magnet set in the center at the bottom front of the cabinet for the middle of the door to connect to when closed (you can see it under the mixer). Keep this obstacle in mind if you will have anything installed in the cabinet (flat roll-out as in this example) potentially conflicting with the magnet. A last note, not even relating to cabinetry, but to a major appliance in every kitchen… the hinging on a refrigerator. Especially with French door refrigerators, the doors need to be able to open more than 90 degrees in order to be able to pull out the crisper drawers within. Therefore, always make sure you've allowed ample space for those refrigerator doors to open– wide.
So as you can see, hinging is kind of a big deal when it comes to designing a kitchen. It affects functionality, ease of use, style and has some serious considerations when it comes to space and clearances. Fortunately Dura Supreme offers so many hinging options that finding a solution that works for you is easy!